Canterbury steeled for Tasman onslaught

NZ Newswire
27/10/2016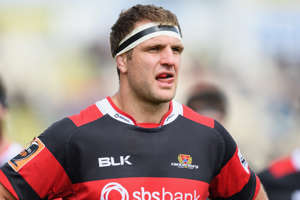 Hunting a 13th national title, Canterbury know they'll have to be at their best when they tackle a resurgent Tasman outfit in rugby's NPC premiership final on Saturday.
Skipper Luke Whitelock says Canterbury's 45-14 round two mauling of Tasman is ancient history, and points to the Makos' gritty 41-29 semi-final win over Taranaki as a better indication of form.
"Saturday is anyone's game," Whitelock told NZ Newswire.
"You start on zero, and you've got to earn the right to get the win.
"We know Tasman pretty well, and we know one thing for sure - they're hugely intense games with a lot of passion out there while they're being played."
Canterbury will be keen to farewell coach Scott Robertson on a winning note while Tasman, playing their second premiership final in three seasons, have the same ambition for departing first five-eighth Marty Banks.
Robertson steps down to take over at the Crusaders next Super Rugby season, while Banks has signed a contract with Italian club Benetton Treviso until the end of the 2017-18 season.
The 27-year-old playmaker has been pivotal for Tasman this season, amassing 149 points to date as leading points scorer in the NPC.
Against Taranaki last week, he collected 21 points and scored the decisive final try which wrapped up the win after the Bulls had closed to within five points with 10 minutes remaining.
"Any No.10 is pretty pivotal to how they roll." Whitelock said.
"Marty is an awesome player - he seems to slip through gaps, and he's got a great kicking game.
"He'll punish us if we make some mistakes."
Canterbury have their own game-breaker in 19-year-old Jordie Barrett, named alongside brothers Beauden and Scott as part of the 36-strong All Blacks squad on their season-ending Northern Hemisphere tour.
"Jordie's had an awesome year, it's amazing what he's done in 12 months - everyone's stoked for him," Whitelock said.
"He's a pretty sort of casual guy, he just gets out there, doesn't say a lot and does some extraordinary things.
"I'm sure Saturday will be no different."