Car crashes into minister's property

NZ Newswire
7/08/2016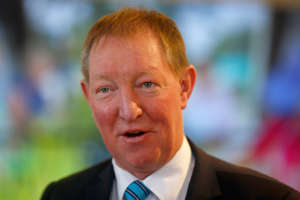 © Phil Walter/ Getty Images Nick Smith Housing Minister Nick Smith is tidying up his front yard after a car crashed through it.
He's posted pictures of a badly smashed car with the words "boy racer problem hit home last night" on his Facebook page on Sunday.
The Stoke-based Nelson MP said a "hoon" was spotted speeding at 130km/h by police and after running a red light went through a rail and two trees and was "left hanging in another in our front yard".
The driver had minor injuries and was taken away in an ambulance, Dr Smith said.
"Today's job clearing trees downed, blocking garage," he said.
The post prompted a lively discussion about a range of policy issues, mostly about road safety.