Carson thanks 'biased' media after raising $3.5M in a week

The Huffington Post
8/11/2015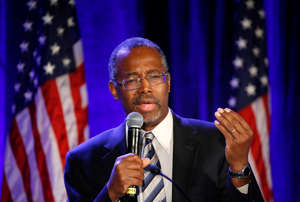 "Thank you biased media," he wrote in a tweet announcing the haul.
The famed neurosurgeon has been forced in recent days to answer questions about his claims that he was offered a full scholarship to West Point, once stabbed an unidentified person as a young boy and was named the most honest student in a Yale psychology class.
On Sunday, the presidential hopeful expressed his distaste with the media for engaging in a "witch hunt" that, he says, has come up empty so far.
"The people are seeing through exactly what's going on, and they're getting fired up. It's almost an us versus them thing," Carson said on NBC's "Meet The Press."