Caucus gives Key a standing ovation

NZ Newswire
21/03/2017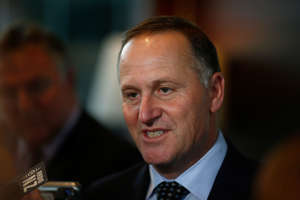 © Phil Walter/Getty Images Former prime minister John Key has attended his last caucus meeting and his successor Bill English says it was "a poignant moment". National's caucus gave former prime minister John Key a standing ovation on Tuesday when he attended his last meeting of the party's MPs.
Mr Key will make his valedictory address on Wednesday before leaving the debating chamber for the last time.
"It was a poignant moment for the caucus and we wish him well," Mr English told reporters.
"He's been an outstanding prime minister, the outstanding prime minister of the last 30 years."
Mr English once joked that Mr Key was likely to be knighted when he left politics, saying "he's been asking for long enough".
On Tuesday he was asked whether Mr Key would receive his knighthood in the next Queen's Birthday Honours List in June.
"That's a matter for the cabinet and the governor-general in the end, they will sort it out," Mr English replied.
"He's been a very successful prime minister, others have been recognised and I'm sure he will be."