CD issues another `be prepared' message

NZ Newswire
24/11/2016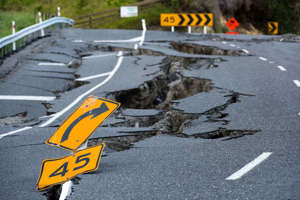 © Marty Melville / AFP Earthquake damage to State Highway 1 is seen south of Kaikoura. Civil Defence says there have been more than 5000 aftershocks since the 7.8 magnitude earthquake and it's again urging people to be prepared for the possibility of a big one.
"I need to reiterate those public education messages - we know there could be an aftershock that is as strong as we experienced just after midnight last Monday or potentially could be bigger," emergency management director Sarah Stuart-Black told a briefing on Thursday.
"So make sure you know what to do and where to meet as a family if you are not together."
She says if an earthquake is so strong that people can't stand up, or rolling lasts more than a minute, they should evacuate inland.
Fire Service deputy national commander Paul McGill says the service is making sure it's prepared.
"Our thinking now is ensuring we're ready for, as has been indicated, another potential major earthquake in Wellington and the South Island," he said.
"We're making sure we're ready with firefighting and USAR (urban search and rescue)."