Change of pace for Black Caps in India

NZ Newswire
12/09/2016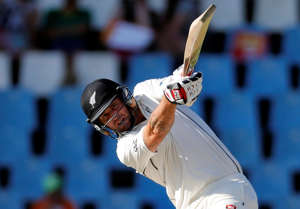 © REUTERS/Siphiwe Sibeko The Black Caps are preparing for a change of pace as they eye the start of their three-Test cricket series in India.
The New Zealanders are coming off a 1-0 defeat in a two-match series against the Proteas and leg spinner Ish Sodhi says they know there's a significant adjustment to conditions in store.
"You come from the pace of South Africa to the spin bowling of India," he said in Delhi.
"It's how you want to challenge yourself as an international cricketer. To be honest it can't get better than this."
Sodhi said the Black Caps could take encouragement from the way they adapted to the conditions in India earlier this year during their run to the World Twenty20 semi-finals.
The 23-year-old made his return to the Test arena after a break of more than 18 months in the Zimbabwe series that preceded the trip to South Africa.
In the second Test in Bulawayo in early August, he took career-best innings and match figures of 4-60 and 7-79 respectively, but then sat out against the Proteas.
Before him now is the tantalising prospect of possibly his first Test appearance in the country of his birth.
"Every time you get to play India it's a really good opportunity to do well and a lot of people are watching," he said.
"It's going to be a big tour ahead - three tests and five ODIs. I've never played a Test match here so I'm looking forward to the chance of hopefully doing that."
Sodhi is one of three specialist slow bowlers in the Test squad, along with all-rounder Mitchell Santner and off-spinner Mark Craig.
The first Test begins in Kanpur on September 22.
Before then, the Black Caps have a three-day fixture against Mumbai in Delhi starting on Friday.