Charges likely over Wellington paua haul

NZ Newswire
30/01/2017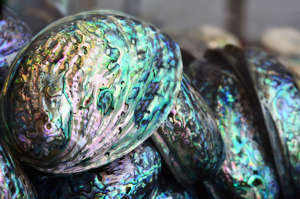 © Chameleons Eye/Rex Shutterstock Paua shells. File photo. Two men caught brazenly shucking hundreds of undersized paua on a Wellington beach are likely to face charges, fisheries authorities say.
The Ministry for Primary Industries says the pair have had their dive gear and other paua-hunting equipment seized after a routine coast patrol over the weekend spotted them with a backpack containing 280 paua.
"All but one were under the 125mm legal size," MPI eastern and lower North Island team manager Mike Green said.
"Unfortunately, because they were shucked we couldn't return them to the sea."
He said the pair would now also likely face charges under the Fisheries Act and would appear in court in coming weeks.
The haul at Green Point, near Titahi Bay, showed that despite regular patrols by MPI officers along coastlines, some people were still willing to break the law, he said.
"This sort of blatant illegal behaviour is really disappointing."