Charges over digger overbridge crash

NZ Newswire
17/05/2016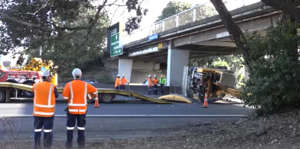 © Fairfax Crews work to clear the aftermath of a crash on the Southern Motorway. A man has been charged after a digger smashed into an Auckland overbridge bringing traffic to a halt.
No one was injured in the accident on Auckland's Southern Motorway last Monday afternoon, but it created a traffic jam that stretched more than nine kilometres.
Police on Tuesday said they had charged the 65-year-old driver of the truck carrying the digger with dangerous driving.
He will appear in court next month.
A video last week posted on Facebook shows CCTV footage of the high-speed collision in which the digger flies off the truck and two cars narrowly miss the heavy vehicle as they pass it on either side.