Chch mum's 400km walk to fight trade deals

NZ Newswire
12/10/2016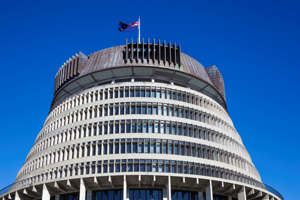 A Christchurch mother is walking 400km to parliament to highlight concerns about inequality and the Trans-Pacific Partnership (TPP) trade deal.
Rachel Thomas hopes to walk about 20km a day and her three home-schooled children, aged under 11, as well as friends, will join her for some of the journey.
"I am really passionate about the future of our world (and) what we're going to leave for our children," she told NZ Newswire this week.
"It's so imminent that the environment is in dire straits and the TPP and other trade agreements that are lurking are detrimental to that and I can't see how we can not do something about it.
"We want to raise awareness of trade agreements like the TPP and we also feel that by doing actions that bring it to public attention will hopefully help people think about who they're going to vote into the government."
Ms Thomas argues that trade deals like the TPP cause inequality and she plans to speak to people along the way about her concerns.
Two vehicles as well as a support crew will follow her on the walk to ensure she is safe. She'll also take wet weather gear and plans to take a break if the weather turns.
During overnight stops she'll stay with members of the public who have offered their homes, with friends, at camp grounds or pitch a tent.
Ms Thomas will begin the hikoi on Saturday and plans to arrive at parliament on November 3 where she will meet with a Greens MP to discuss her concerns.
The TPP free trade agreement was signed by representatives from New Zealand, Australia, Brunei, Canada, Chile, Japan, Malaysia, Mexico, Peru, Singapore, the United States and Vietnam in February but is yet to be enacted.