China will fill trade void left by US: Key

NZ Newswire
19/11/2016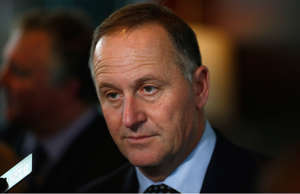 © Getty Prime Minister John Key has joked that renaming the TPP the "Trump Pacific Partnership" might win the US president-elect over to the free trade deal. Prime Minister John Key has launched a staunch defence of free trade at APEC, saying if Donald Trump refuses to show leadership in the Pacific, China will fill the void.
Speaking to an audience of business and world leaders at the APEC summit in Lima, Peru on Saturday, Mr Key said if the anti-trade sentiment Mr Trump showed during his election campaign could not be overcome, other countries had to remain committed to demonstrating the benefits of free trade.
"We have to have a strong message that what we are doing here works, we believe in it. We hope he's part of the program, but if he's not, we're going to carry on doing this," he said to loud applause.
While Mr Key remained optimistic that Mr Trump would become more receptive to global trade, he said a withdrawal of the US from the region would cause countries to look towards China.
"In the end if the US is not there, that void has to be filled. And it'll be filled with China," he said.
Mr Key said he hoped some "cosmetic" changes to the deal would bring Mr Trump around, joking they could rename the deal the "Trump Pacific Partnership".
As part of a whirlwind schedule on Saturday, Mr Key earlier met with Chilean President Michelle Bachelet and Peru's Pedro Pablo Kuczynski for formal bilateral talks - and he's also scheduled to sit down with Canadian PM Justin Trudeau in the afternoon.
All three countries are fellow members of the Trans-Pacific Partnership, the trade deal that's top of Mr Key's agenda for this year's APEC.
The leaders of the 12 TPP countries are set to meet later in the day to discuss whether the deal can be salvaged in the face of opposition from Mr Trump and his threats of US withdrawal.
Mr Key told the APEC audience while he wanted Mr Trump to be part of the deal, modelling had shown that New Zealand would still get about two-thirds of the $NZ3 billion in benefits of the agreement if the US pulled out because of gains from other members, such as Japan and Mexico.
Earlier in the week, he told reporters that other member countries had proposed reworking TPP with the remaining 11 members.
The APEC summit brings together the leaders from 21 Pacific economies that make up 60 per cent of the world's GDP and about three quarters of New Zealand's export markets.
Chinese President Xi Jinping spoke earlier in the day, saying a free trade area across the Pacific was vital for future global growth.