Chinese demand lifts NZ export log prices

NZ Newswire
21/11/2016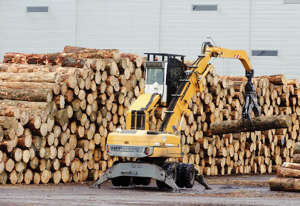 © Mark Coote/Bloomberg A log stacker stacks logs ready for export at CentrePort in Wellington, New Zealand New Zealand export log prices rose for a third straight month in November, aided by low shipping rates and demand from China, the country's largest export market.

The average wharf gate price for New Zealand A-grade logs advanced to $117 a tonne in November, from $113 a tonne in October, and ahead of the $92 a tonne recorded in November last year, according to AgriHQ's monthly survey of exporters, forest owners and saw millers.
Forest products are New Zealand's third-largest commodity export group behind dairy and meat products, and returns to New Zealand growers are influenced not only by demand in overseas markets but also the relative cost of shipping and fluctuations in the exchange rate.
China's appetite for logs is holding at a positive level, aided by lower inventory levels and demand from the country's construction sector, according to AgriHQ's latest monthly report.
"Exporters have continued to find firm interest from Chinese buyers through the past month," AgriHQ analysts Reece Brick and Shaye Lee said in their report.
"Port-level inventories indicate that any downwards movement in CFR (cost-and-freight) pricing through into next year is unlikely."
Chinese housing data showed the average price of a newly built home rose 11.2 per cent in September, the strongest growth since those records began in 2011, and ahead of August's 9.2 per cent pace, the report said, although it indicated the pace was likely to slow as new regulations bite.