Chirstchurch dances in honour of Orlando victims

NZ Newswire
14/06/2016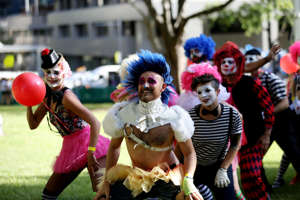 Dozens of people wearing LGBT flags have danced in central Christchurch in honour of the Orlando shooting victims who died "enjoying a night out".
After people wiped away tears following a minute's silence for the 49 people shot dead at gay nightclub Pulse at the weekend, those at the vigil hugged and danced to We Are Family.
The dancing was "in recognition that the people who died and who were severely injured were in a nightclub where they were enjoying a mid-summer's night," one of the organiser's told the crowd on Tuesday.
Many at the event were from the LGBT community and expressed their horror at what they said was an attack on their community.
"I couldn't believe it, I still can't believe that something like this could happen to our community in 2016," Kit Omalley, who is originally from Texas but now lives in Christchurch with her Kiwi wife, told NZ Newswire through tears.
"It was homophobia plain and simple ... this was a blatant hate crime."
The 28-year-old said although she was hurting, Tuesday's vigil had put a smile on her face.
"It's unique and I'm really, really happy to have this community here."
Christchurch man Craig Ashby, who is in his 50s, said he was in tears when he first heard the news.
"We're here showing Orlando we're right behind them," he said as supporters danced behind him.
"We need to show our emotions and let the emotions out. We're all hurt by this - it was an attack on our community."
Mayor Lianne Dalziel said in a letter written to her counterpart in Orlando, Buddy Dyer, that the people of Christchurch understood the importance of coming together and supporting each other after a tragedy, having come through the deadly quake of 2011.
"We came together and supported each other as I'm sure your community will also," she said in a letter read at the vigil.
"On behalf of the people of Christchurch I want to convey our most sincere condolences to you and people of Orlando."
Other vigils were held in Wellington and Auckland on Monday.