Chopper crash blamed on mast-bumping again

NZ Newswire
29/03/2017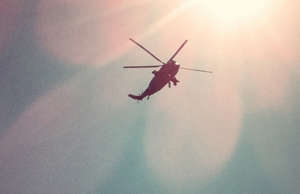 Safety restrictions in place for smaller Robinson helicopters should be extended to cover the manufacturer's larger choppers, air investigators say in their findings into a fatal 2014 crash.
The accident killed pilot Damian Webster when his Robinson R44 ploughed into steep bushland north-east of Mt Arthur in the Kahurangi National Park.
The chopper broke into pieces in mid-air when one of the rotor blades struck the cabin due to a phenomenon known as "mast bumping", the Transport Accident Investigation Commission said in a report released on Thursday.
Mast bumping occurs when the inner part of the main rotor blade hits the drive shaft in low-gravity flight.
While not ruling out the pilot contributed to the helicopter's "in-flight" break-up in October 2014, investigators said all Robinson helicopter models were susceptible to mast bumping in low-gravity conditions.
With turbulence helping to create low-G conditions, TAIC said that had limitations preventing inexperienced pilots flying model R22 helicopters in certain conditions also applied to R44s, Mr Webster would not have been allowed to fly at the time of the 2014 crash.
TAIC has recommended safety limitations and requirements applying to R22s and their pilots be extended to all Robinsons and their pilots, regardless of their experience.
It also found the approved piloting technique for recovering from the effects of mast bumping on a helicopter is not instinctive and needs to be practised.
The report comes after TAIC last year added the Robinson to its watchlist of most pressing concerns.
At the time, it said since 1996, aviation officials have investigated 14 "mast bumping" crashes involving Robinson helicopters, costing the lives of 18 people.
There are about 300 Robinson R22, R44 and R66 helicopters flying in New Zealand, or about 40 per cent of the country's fleet.
In 2016, the commission flagged mast bumping in its report into the deaths of flight student James Patterson Gardner, 18, and instructor Steven Combe, 42, near Queenstown.
The victims' families blamed the helicopter design but Robinson said the low-G was caused by pilot error.
On Monday this week, a Robinson R22 crashed near Reefton, killing 51-year-old pilot Noel Wilson. The crash is currently being investigated by TAIC.