Chubbies Raises $4 Million Giving Bros A Weekend Uniform

TechCrunch
15/04/2014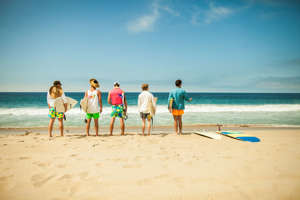 Slangy marketing and a singular vision of weekend wear has netted , a manufacturer and online retailer of men's shorts, a $4 million round of funding from some of the biggest names in fashion and retail investing.
Chris Burch, the co-founder of women's fashion accessories company  and an investor through , led the round. He was joined by a cornucopia of other brand investors also came on board to back Chubbies including: Ben Lerer, the founder of  and; Blair Lambert, who is the brains behind ; Brian Spaly of  and ; chairman Bob Hall; as well as the venture firms and . 
Investors continue to put money into commerce plays that are using online marketing tools to create brands for a new generation of consumers. Companies like , Bonobos, , have raised tens of millions of dollars for their clothing brands.
San Francisco-based Chubbies was launched in August 2011 by four friends from Stanford who had moved to the city to pursue careers in private equity, venture capital, technology development and fashion.  Rainer Castillo, a former merchandiser and designer with The Gap; Kyle Hency, who worked in private equity; Tom Montgomery, a former venture capitalist; and Preston Rutherford, who worked in a consumer internet company; launched Chubbies to sell a summer lifestyle brand built around vintage-inspired shorts.
Every year on the fourth of July the friends would reconvene in Lake Tahoe for what co-founder Rainer Castillo called "massive" events.
"It was let's have some outrageous gear and make a scene on the beaches of Lake Tahoe," Castillo said. One year, the group decided to only wear 1970s and 80s-inspired men's shorts.
"A lot of our friends were really excited about these 80s inspired vintage shorts," said Castillo. "After Tahoe was over, people reached out to us and started asking for the shorts. The second we made a handful we started getting this inbound interest from people we didn't know."
Now the company's  founders want to bring to life the experience they had in Tahoe. Chubbies is intent on courting the college crowd. Indeed much of the $4 million the company raised will be spent on sales and marketing efforts to reach the college crowd.
"Really for us, it's about freedom to do some interesting and wild stuff," said Kyle … do some crazy things that are outside the functioning of the business…Shorts, according to the guys at Chubbies, is a $3 billion business, that's not dominated by a single manufacturer in the same way that Levi's dominates the jeans market. And while cyclicality is an issue, they said it's not an insurmountable one.
"For us it represents freedom and experimentation," said Hency, of the financing. "Our culture here is if we have an idea we'd love to try it. If we want to go out and blow out a tailgate tour of football games in the South, that's something we'd like to do in a big way."
Chubbies makes its shorts in facilities in San Francisco, Oakland, Calif., and Los Angeles using fabric sourced from the southeastern U.S. The shorts range in price from $49.50 to $59.50, and typically ship within four business days. Shipping is free as are returns, because the company wants its customers to "focus on crushing life".