CIA Director John Brennan believes ISIS will attack U.S.

New York Daily News
30/06/2016
The next ISIS target after Istanbul could be the United States.
CIA Director John Brennan, one day after the deadly terror strike on the Turkish airport, warned that the Islamic hate group was likely plotting the same type of carnage for American soil.
"If anybody here believes the U.S. homeland is hermetically sealed and that (ISIS) would not consider that, I would guard against it," Brennan declared at a Wednesday appearance in Washington.
The dire warning came as Turkish officials said evidence in Tuesday's suicide bombing points toward ISIS, with Brennan agreeing the horrific assault "bears the hallmarks of (ISIS) depravity."
The lethal lightning strike by three terrorists wrapped in suicide vests killed 42 people and wounded an additional 238 — with more than 120 still hospitalized Wednesday.
Merve Yigit, a 22-year-old airport catering worker, died Wednesday from shrapnel injuries to her abdomen, stomach and head, the latest fatality in the barbaric attack.
Authorities said 13 of the dead were foreigners. None have been identified as American citizens. Among the tourists killed was Nisreen Melhim, 28, who was headed to grab a cab after touching down from Saudi Arabia with her husband and daughter.
"The explosion went off," said her spouse, Marvan Melhim. "I found my wife bleeding. . . . The ones who did this are brutal criminals. How come they kill innocent people?"
Lucky to survive was 12-year-old Hevin Zin, who had just arrived from Dusseldorf, Germany, with her family.
"There was blood on the ground," the girl said through tears. "Everything was blown up to bits. . . . If we had arrived two minutes earlier, it could have been us."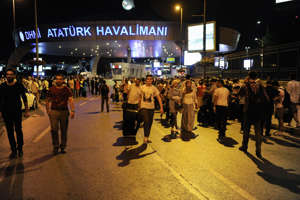 Explosions rock Istanbul airport Ataturk Airport reopened for business less than 24 hours after the attack, with passengers heading to their gates Wednesday through a surreal scene of shattered glass, bloodstains and bullet holes.
But it was hardly business as usual. Workers mopped up the remaining gore and repaired the damaged building, and many flights were canceled or delayed.
The trio of bombers, each wrapped in a suicide vest, arrived at the airport via taxi before starting their choreographed destruction.
Though initially stymied by airport security, they wasted little time before unleashing the attack intended to inflict maximum bloodshed.
"When the terrorists couldn't pass the regular security system, when they couldn't pass the scanners, police and security controls, they returned and took their weapons out of their suitcases and opened fire at random," said Turkish Prime Minister Binali Yildirim.
© Provided by New York Daily News "I'd be surprised if (ISIS) is not trying to carry out that kind of attack in the United States," said CIA Director John Brennan. - Evy Mages/Getty Images The first bomber walked inside the international arrivals terminal, started blasting away with an assault rifle and then detonated his vest, Turkish officials said.
The second bomber bolted inside through the ensuing chaos, ran upstairs and set off his bomb. The third terrorist waited outside, detonating his explosives as terrified people ran for safety — only to find more death.
"Four people fell in front of me," recounted airport worker Hacer Peksen. "They were torn into pieces."
A pair of videos captured the twin blasts inside the terminal Tuesday night, with travelers sprinting for safety as a fireball — followed by smoke and debris — filled the terminal.
One of the terrorists appeared to get shot by an airport security guard before setting off his suicide blast.
President Obama suggested the attack was ISIS lashing out because it is now losing the fight in Syria and Iraq.
The slaughter was "an indication of how little these vicious organizations have to offer beyond killing innocents," the President said. "We will not rest until we have dismantled these networks of hate."
But there was no public statement from ISIS on the latest mass killing.
It was the eighth in a string of terrorist attacks targeting Turkey in the first half of 2016, with previous strikes hitting tourist sites and police operations.
The first came just 11 days into the new year, with a suicide bomber killing 11 people and wounding 14 more.
With News Wire Services