City rail works to begin at Britomart

NZ Newswire
26/04/2017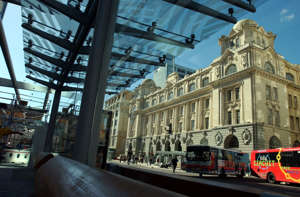 A popular inner city lawn and recreation area in front of Auckland's Britomart station is set to become a construction zone as work begins on the city rail link.
Auckland Council says the works will run from May until 2019.
The public space at the bottom of Queen Street was last year transformed into a popular lawn space, featuring regular buskers and public art, after buses were prevented from entering the area.
Authorities will begin closing off the area from the beginning of May, but pedestrians will still be able to walk between Quay to Customs streets and to Britomart Station.
Meanwhile, work on the project along busy Albert Street continues and is also expected to be completed in 2019.
The City Rail Link project will see two 3.4-kilometre rail tunnels installed under central Auckland by 2023 - with half of the $2.8 billion to $3.4b estimated bill to be picked up by the government and the rest by Auckland Council.
The complete project will create a new line from the Viaduct to Mount Eden, creating a loop around the central city which planners say will double commuter capacity at Britomart.
It will rank among the biggest and most expensive public transport projects ever in New Zealand.