Civil Defence defends Goose Bay evacuation

NZ Newswire
24/11/2016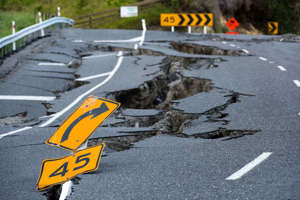 © Marty Melville / AFP Earthquake damage to State Highway 1 is seen south of Kaikoura. Civil Defence has defended the decision to conduct an urgent precautionary evacuation of residents from a small community near earthquake-hit Kaikoura.
Some of the 17 people told leave Goose Bay in a hurry on Wednesday because of fears that a dam formed by a landslip could burst have complained about the move.
But Kaikoura Civil Defence controller Murray Sinclair says he's confident he made the right call, given the low-lying nature of the land and the forecast bad weather.
"Essentially, there's a large pool of water building behind the newly created dam," he said.
"The water is about 200 to 300 metres in length and 10 metres wide."
Mr Sinclair said it wasn't known if the dam would fail, but it wasn't a risk he was willing to take.
"I'd prefer to have one or two members of the community be upset, rather than risk anyone's lives," he said.
Mr Sinclair said an in-depth geotechnical investigation of the landslide was under way,
Goose Bay, which is 7km south of Kaikoura, has about 35 houses but several are holiday homes.
The evacuees, none of whom needed emergency accommodation, have been told to prepare to be away for at least 10 days.