Civil Defence Minister: Kaikoura earthquake rebuild on track

NZ Newswire
10/05/2017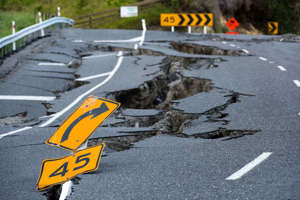 Six months after Kaikoura found itself near the epicentre of November's 7.8 magnitude earthquake the effort to get the tourist town back in business are on track.
Civil Defence Minister Nathan Guy made his first visit to the quake-affected region on Wednesday, just a week after being sworn into the portfolio, replacing new Foreign Minister Gerry Brownlee.
Sunday marks the six month anniversary of the complex series of quakes that ruptured 21 fault lines.
It was felt extensively across the South Island and lower North Island, causing damage to buildings, roads and land across multiple regions.
On a day trip, Mr Guy visited three main slip sights on State Highway 1, north of Kaikoura, where he met with contractors to offer thanks to 400 staff on the ground.
Mr Guy said the aftermath of cyclones Debbie and Cook was still evident in the region, with several slips having worsened due to the deluge.
Works, costing up to $1.33 billion, are on track to have the road open by the end of the year.
"The earthquake hit Kaikoura's tourism business hard - half of its hotels, motels, backpackers and holiday parks were closed in December 2016," he said.
He expects re-opening the road to tourists will be "incredibly exciting" for the town.
Mr Guy also announced $5 million in primary sector support for farmers and growers for long-term land use diversification projects, research and restoration.
The funding can also be used for private sector landowners wanting advice on the recovery and future use of their land.
Science and Innovation Minister Paul Goldsmith made a pre-budget announcement committing $1.2 million toward research and earthquake recovery.
"Science helps us to understand what happened during this earthquake, how we rebuild and how re respond to future events," he said.
It will fund continued landslide assessments, new hazard models incorporating slow slip earthquake sand land deformation, and subsoil assessments in Wellington.
Mr Guy is expected to make a number of other stops on his one-day trip, as well as meeting with Kaikoura Mayor Winston Grey.