Clark in race for top UN job

NZ Newswire
4/04/2016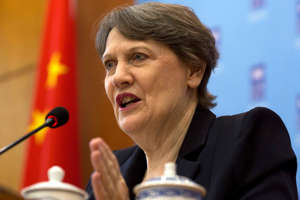 Former New Zealand prime minister Helen Clark is joining the race for the top job at the United Nations.
In a statement on Tuesday morning, Miss Clark, who already holds a high-level UN post, said she was honoured to be nominated by New Zealand and believed she had the skills for the job.
The role was about "giving a voice to seven billion people", she said.
"We, New Zealanders, have developed our own way of getting along with one another and getting things done. The tradition of being tolerant, pragmatic, and fair is a central part of who we are, and I believe I would bring these attributes to the position of secretary-general."
She said she would run an accessible campaign.
Miss Clark, the current head of the UN's Development Programme, is the second Western candidate, after Portugal's Antonio Guterres, and the fourth woman to enter the race.
If successful, she would be the first woman to hold the top post.
The UN Tribune reports the United States is believed to favour Miss Clark because she sent New Zealand troops to Afghanistan and cut costs at the UNDP. However, it also says Russia favours an Eastern European woman for the post.
Prime Minister John Key confirmed on Tuesday that his government would nominate her to be the next UN secretary-general.
"Helen Clark has a vast amount of experience in international affairs which will be hard for other candidates to match. She's a great listener and communicator, and I know she will make a difference if elected," he said.
"The UN needs a proven leader who can be pragmatic and effective.
"Coming from New Zealand, Helen Clark is well placed to bridge divisions and get results. She is the best person for the job."
Mr Key has submitted New Zealand's nomination letter to the presidents of the UN General Assembly and the UN Security Council.
The government-backed bid is likely to cost hundreds of thousands of dollars and New Zealand Ministry of Foreign Affairs and Trade staff will be involved, Mr Key said.
The role becomes vacant when Ban Ki-Moon finishes his term at the end of this year.
The 66-year-old Miss Clark was the prime minister of the fifth Labour government between 1999 and 2008.
She took up the UNDP administrator position in 2009.
Seven European politicians, most from eastern Europe, have already expressed their interest in the job.