Clark to face grilling from UN

NZ Newswire
13/04/2016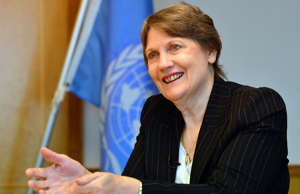 © Getty Images United Nations Development Programme (UNDP) Administrator Helen Clark. When you're in the running to be the next secretary-general of the United Nations, there's no such thing as an ordinary job interview.
Former prime minister Helen Clark is about to be grilled by representatives from the UN's 193 member states in a two-hour session.
Six of the eight candidates have already taken part in informal dialogues with the UN General Assembly, which are part of a new, more transparent process for selecting the organisation's next boss.
It will be Miss Clark's turn on Thursday morning in New York (Friday NZ time).
She will be formally introduced to the General Assembly and make a short presentation, before fielding questions on a range of topics including how to promote sustainable development, how to improve efforts to create peace, how to deal with humanitarian crises and how to protect human rights.
Members of the public have also been able to participate by submitting questions through social media, some of which will then be asked by the General Assembly President Mogens Lykketoft.
Until now, the decision about who will be the next secretary-general has generally been made behind closed doors, usually among the most powerful nations on the Security Council.
That's despite the fact the secretary-general is meant to be appointed by the Security Council on the recommendation of the General Assembly.
"We are sailing into uncharted waters here," Mr Lykketoft said ahead of the informal dialogues.
He called it a potentially "game-changing exercise" that's part of a push towards greater transparency about the workings of the UN.
Mr Lykketoft hopes that by the end of the process, the General Assembly will agree on a single candidate - making it difficult for the Security Council to choose someone else.
Miss Clark, the current head of the UN Development Programme, is widely considered to be a strong candidate.
British bookmaker William Hill has her as the favourite, but Australian outfit Sportsbet has UNESCO director-general Irina Bokova in front.
Current secretary-general Ban Ki-moon finishes his term at the end of the year.