Clark's UNDP tenure under fire

NZ Newswire
25/05/2016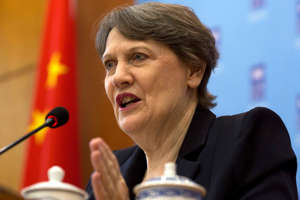 Helen Clark's record as the head of the United Nations Development Programme has been called into question, but the former New Zealand prime minister is hitting back saying allegations about her involvement in a former UNDP staffer's departure are "totally fabricated".
A just-published investigation by Foreign Policy claims many of Miss Clark's colleagues at the UNDP "are not rooting for her" in her bid to become the next UN secretary-general.
The Washington DC-based magazine alleges Miss Clark's seven-year tenure as the UNDP boss has left "a trail of embittered peers and subordinates, who accuse Clark of ruthlessly ending the careers of underlings in her quest to advance her candidacy and of undercutting the UN's promotion of human rights".
Much of the investigation centres on the circumstances around the departure of one staffer who was involved in a highly critical investigation into the UNDP's response to mass atrocities in Sri Lanka, known as the Petrie Report.
Foreign Policy claims the staffer was driven out of her job by Miss Clark's top managers in retaliation for her involvement in the investigation - allegations the magazine says are backed up by internal UN emails and the accounts of several current and former UN-based officials and diplomats.
In a statement on the UNDP website, the agency said Miss Clark's "40-plus years in public service in New Zealand and at the United Nations speaks for itself".
"She has advocated and fought tirelessly for the poor and the marginalised, and has always been on the frontlines of human rights. "The recent allegations of retaliation or involvement in a former UNDP staff member's employment status are totally fabricated, as are the allegations regarding the Petrie Report."
There are nine candidates vying to replace current UN secretary-general Ban Ki-moon when he finishes his term at the end of this year.
Miss Clark is considered to be one of the front-runners. Her bid is being supported by the New Zealand government.