Clayton Cosgrove not standing at election

NZ Newswire
10/04/2016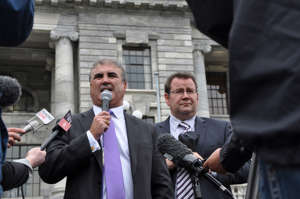 Labour MP and former government minister Clayton Cosgrove says this term in parliament will be his last.
The Waimakariri MP announced on Sunday he won't be standing as a candidate in the 2017 general election.
Mr Cosgrove has been an MP since 1999 and served as a cabinet minister in the Labour-led government between 2005 and 2008.
He said his decision not to run was not taken lightly.
"I was elected to parliament when I was 30 and now at 46, it is the right time to take the next step in my career."
He considers his political achievements to include reforming the real estate and property sector, lifting quality in the construction sector and leading the redevelopment case for Eden Park - the Rugby World Cup flagship venue.
"It has been an absolute honour serving the community as a member of parliament and I owe the voters and my party a huge debt of gratitude," he said.
Mr Cosgrove did not confirm what his next step would be, but referenced his past experience in the business sector.