Cleary joins NRL to aid refs

NZ Newswire
4/05/2016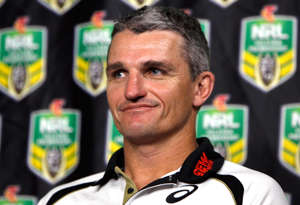 © Renee McKay/Getty Images Panthers coach Ivan Cleary speaks to the media during a NRL Finals series press conference at Rugby League Central on September 22, 2014 in Sydney, Australia Ivan Cleary may no longer be No.1 NRL coach-in-waiting after taking up a position as a consultant with NRL head office.
The former Warriors and Penrith head coach has been appointed to work with referees and the match review committee after recent discontent about their efforts.
Cleary's name has been among the first mentioned as a possible replacement for two coaches under pressure this season, Wests Tigers' Jason Taylor and the Warriors' Andrew McFadden.