Climate protest planned for Tillerson trip

NZ Newswire
1/06/2017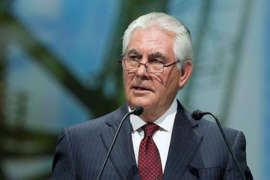 US Secretary of State Rex Tillerson can expect strong opposition to his nation's withdrawal from the Paris Climate Agreement when he visits New Zealand next week.
Rallies are already being planned outside Parliament where he's expected to meet with Prime Minister Bill English and Foreign Minister Gerry Brownlee on Tuesday.
Greenpeace and Oil Free Wellington have called on supporters to give Mr Tillerson the "opposite of a warm welcome" to show their opposition to President Donald Trump's decision to "get out" of the global climate agreement.
Labour leader Andrew Little has called on Mr English to join the stand against the decision and "ensure Rex Tillerson knows the damage that's been caused to the international campaign".
"Mr Tillerson must be reminded that the world can only combat climate change and that New Zealand stands shoulder-to-shoulder with other nations which have embraced the challenge," he said.
Mr Trump announced his decision on Friday morning (NZT) declaring he would immediately seek to begin negotiations to re-enter the agreement which he said was, in its current form, "very unfair at the highest level" to the US.
Mr Little said Mr Tillerson was coming to New Zealand as a country vulnerable to the effects of climate change, including rising sea levels, droughts and other extreme weather events.
That sentiment was echoed by Oil Free Wellington spokeswoman Michell Ducat who described runaway climate change as the biggest threat facing the Pacific.
"Our Pacific neighbours face rising seas and salt water encroachment - and we all face the uncertainty of extreme weather events," she said.
Greenpeace climate campaigner Kate Simcock said climate change was not a legal or political debate. "It is an inescapable obligation to protect people and planet," she said.