Clinical Kookaburras too good for Kiwis

NZ Newswire
19/11/2016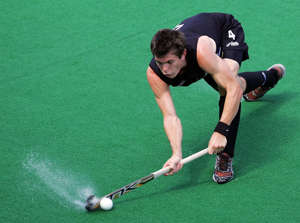 Australia were clinical in notching up their second men's trans-Tasman hockey win over New Zealand, two second-quarter goals enough to set up a 2-1 victory in Auckland.
The win follows Thursday's opening Test at Lloyd Elsmore Park, won 4-2 by the Kookaburras, and gives the Australians an unbeatable 2-0 lead in the best-of-three series.
Both teams worked hard in the opening quarter, but couldn't create too many opportunities in close, with strong defensive work in the attacking third proving difficult to break.
New Zealand's best opportunity of the first quarter came after five minutes from a strong Dominc Newman drive into the circle, but Stephen Jenness mistimed his strike on goal.
The Black Sticks had to work overtime for the final five minutes of the spell with skipper Nick Haig yellow-carded, but did well to hold the Aussies out.
Daniel Beale's pace and anticipation proved dangerous, and it took some desperate defence to deny the speedy 23-year-old on a driving run across goal late in the first quarter.
Beale wasn't to be denied, however, and slammed home early in the second quarter after a slick interchange with Aaron Kleinschmidt created space.
Jenness continued to prove a menace down the left, but although the Kiwis forced an early penalty corner, a superb save from Australian keeper Tyler Lovell kept the Black Sticks scoreless.
Chris Bausor doubled the lead for Australia from a penalty stroke late in the second quarter, a margin the Kookaburras could only protect for five minutes of the third spell.
A driving run through the midfield from James Coughlan released Jacob Smith to the edge of the circle, with Lovell caught off his line as Kim Kingstone's diving finish punched the ball home.
The Black Sticks continued to press in the final quarter, stretching the Australian defence on the counter-attack but unable to find the crucial equaliser.
The Kiwis were hit hard by a series of cards, four green and one yellow meaning they played 13 minutes of the hour-long game with 10 men.