Clinton: Trump trying to hide something in his taxes

USA TODAY
6/09/2016
Hillary Clinton, speaking to reporters Tuesday, said Donald Trump "clearly has something to hide" in his tax returns, adding that the GOP presidential nominee is "dead wrong" that Americans don't care about seeing what's in them before voting in November. 
"The burden is on him, and indeed for the rest of us in the campaign on our side, the press, the public, to demand what a big majority of the public says they want," Clinton told reporters aboard her new campaign plane. She also said Trump is hiding something and we "are getting better guesses about what it probably is." The Democratic presidential nominee cited a New York Times report that Trump owes $650 million to foreign banks and entities.
She also blasted her opponent over Trump University, which she said is being sued because "of the way it has scammed so many students." Clinton referenced reports that Trump's charitable foundation had contributed to a group supporting the campaign of Florida Attorney General Pam Bondi as she was deciding whether to investigate allegations of fraud against the university, which she ultimately opted against. 
Clinton hit Trump for what she called "the scams, the frauds, the questionable relationships, the business activities that have stiffed workers" in the session with reporters ahead of a campaign rally in Florida.
The appearance marked the second day in a row Clinton wandered to the back of her plane to talk with journalists traveling aboard her plane. Clinton has come under assault from Republicans for shunning the national press corps that travels with her, although the campaign points to hundreds of interviews the candidate has granted.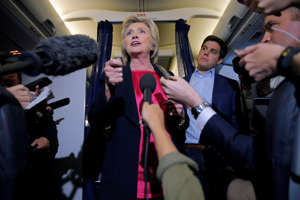 © REUTERS/Brian Snyder U.S. Democratic presidential nominee Hillary Clinton answers a question from a reporter on her campaign plane enroute to Tampa, Florida, U.S., September 6, 2016. Her Republican challenger, Donald Trump, had been sending out a daily email, titled "Hiding Hillary," that tabulated the number of days since her last formal news conference. Prior to Monday, it was 276 days, dating back to December 2015.
The candidate is making herself more accessible as polls show the race tightening after a series of reports about her family foundation and the access its donors may have gained to her as secretary of State. While Clinton is still up on Trump by about 3 points in the RealClearPolitics polling average, two recent surveys have Clinton and Trump in a statistical tie. 
Clinton has also been largely out of the public eye in recent days as she scooped up campaign cash in a flurry of fundraisers before the Labor Day holiday. During that time, critics circulated internet rumors about the state of her health. The FBI also released a transcript of its meeting with Clinton in July that included more fodder for critics, including that she didn't recall certain meetings she'd held at the State Department.
In her comments to reporters Monday, Clinton disputed the notion that because she couldn't remember specific meetings she did not appreciate the agency's classification system. She also drew a connection between reports about likely Russian hacking of the Democratic National Committee and Trump's campaign for the White House. She likened the hack to "Watergate" in "cyber time" and said it was "intriguing" that it happened around the time Trump became the GOP nominee.
"He very early on allied himself with Putin's policies," including pulling out of NATO, she said, referring to the Russian president. "He seems to have this bizarre attraction to dictators," Clinton said of Trump.
Regarding the Clinton Foundation, the campaign has said many of the meetings were with groups or foreign heads of state with whom the nation's top diplomat would be expected to meet. There has been no evidence thus far that Clinton granted them favors. In her Tuesday appearance before reporters, Clinton brushed back suggestions that her daughter, Chelsea, also relinquish her leadership role in the foundation.
"These issues will be decided after the election," said Clinton.