Cold case killer brought to justice

NZ Newswire
13/05/2016
© Newshub Kamal Reddy

"We would never wish for anyone to go through what we have", says the family of a brutally murdered young mother and child.

For almost eight years the murdered bodies of Mubarak Yusuf, 24, and her three-year-old child, Juwairiyah "Jojo" Kalim lay undiscovered in a deep grave while cars raced over a bridge above, until their killer was undone by his own words.
After more than four hours of deliberating, an Auckland jury has returned a guilty verdict on Friday for Kamal Reddy, 43, charged with murdering the two victims in late 2006.
Outside court, Detective Sergeant Stephen Nightingale read a statement on behalf of Ms Yusuf's family.
"She was beautiful, caring, a wonderful mother to Juwairiyah," the statement read.
"We're extremely pleased that this offender will now be held accountable for his terrible actions."
The statement went on to say the family were glad their questions had been answered and they could move on with their lives.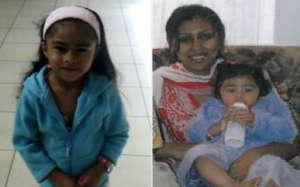 © RNZ / Supplied / NZ Police Juwairiyah Kalim - known as Jojo (left) - and a photo of her and her mother Pakeeza Faizal, also known as Mubarak Yusuf Reddy unwittingly confessed to undercover officers in October 2014 he had strangled Ms Yusuf - also known as Pakeeza Faizal - and smothered Jojo.
Thinking he was talking to trusted acquaintances, Reddy took the officers to the victims' bodies under the Takapuna Landing Bridge.
He told them he "just got rid of her".
Desperate to shift the blame at trial, Reddy said his confession was made-up to protect the real killer who had threatened him if he turned him in.
However the jury did not believe his account about a man he knew only as James who he claimed Ms Yusuf was dating at the time of her death.
Warning signs of Reddy's murderous rage emerged during his one-year relationship with Ms Yusuf, who made tearful calls to her mother in Fiji, saying he was drinking heavily and beating her.
In late 2006, Ms Yusuf called her ex-husband for help saying she feared for her life, and when he arrived at her house Reddy swung a machete at him.
Reddy faced charges over the incident, including threatening to kill Ms Yusuf - which was withdrawn in 2007 because unbeknownst to the court Ms Yusuf was already dead and therefore did not appear to give evidence.
The Crown argued that on December 27, 2006, Reddy violated a non-association order, snuck into Ms Yusuf's house at night and killed her and her daughter.
He was driven by resentment, anger and jealously at the thought she could be seeing other men after he had helped her financially, the Crown said.
After burying the bodies, Reddy went about covering his tracks, lying to Ms Yusuf's family that she had run off.
It took until 2013 for Ms Yusuf's suspicious mother to report her missing to police, who opened an investigation.
Unable to secure enough evidence to take Reddy to trial, police initiated an undercover operation in April 2014 that resulted in his confession and accurate description of how the bodies were buried.
Reddy will be sentenced on June 22.
Bodies under the bridge: the facts
Kamal Reddy has been found guilty of a nearly decade-old double murder. So what was the case all about?
THE AUCKLAND DOUBLE MURDER COLD CASE TRIAL: WHAT YOU NEED TO KNOW
WHO
Auckland mechanic Kamal Reddy, 43, found guilty of murdering his partner and her daughter in late 2006.
THE VICTIMS
Reddy's 24-year-old girlfriend, Mubarak Yusuf, also known as Pakeeza Faizal, and her three-year-old daughter Juwairiyah "Jojo" Kalim.
WHY'D IT TAKE SO LONG TO GET TO COURT?
Although the pair vanished around Christmas 2006, they weren't reported missing until early 2013 by Ms Yusuf's mother. The police investigation ran from January 2013 to Reddy's arrest in October 2014, including six months of undercover work. Ms Yusuf's ex-husband had hired lawyers and private investigators in the mean time.
THE CROWN CASE
Reddy inadvertently told undercover police officers he strangled Ms Yusuf with an electric cord and smothered Jojo with a pillow before burying them at a construction site under the Takapuna Landing Bridge in Auckland. Associate Bal Naidu said Reddy came to him saying he had killed the pair and need a place to bury them.
UNDERCOVER POLICE?
After becoming suspicious of Reddy, police spent six months using undercover officers to gain his trust, eventually leading to his taped confession. The court suppressed the exact details of the sting, but it can be reported it involved undercover officers bringing Reddy along on staged "criminal scenarios" he believed were real.
THE DEFENCE
Reddy's lawyers said he was pressured into making a false confession after repeated questioning from people he thought he could trust. They argued the real killer was another boyfriend of Ms Yusuf's, only known by the name "James", and Reddy had helped him get rid of the bodies because he had been threatened.
THE OUTCOME
A High Court jury found Reddy guilty of both murders. He will be sentenced on June 22.