Collins joins race to be PM

NZ Newswire
6/12/2016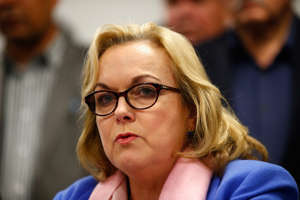 © Getty Images Judith Collins. There will be a three-horse race for the National leadership with Judith Collins and Jonathan Coleman throwing their hats into the ring to challenge deputy Bill English.

The trio confirmed they would seek the backing of caucus next Monday to succeed John Key as prime minister.
The numbers could still grow with Paula Bennett "in deliberations" with the caucus and Simon Bridges still assessing his options and looking at the candidates as they come forward.
Dr Coleman and Mr English were the first to confirm their intentions to reporters after emerging from a more than two hour meeting on Tuesday.
"On the basis of soundings I took last night it's very clear that there is an appetite for a contest between candidates and I have informed the caucus that I will be putting my name forward for leadership next Monday," Dr Coleman said.
Mr English announced he too had sought nomination for the leadership to replace Mr Key, who will step down on Monday.
Ms Collins waited until she was walking into the House to announce she too would stand. "Today is a day that I've made a tough decision and that's that I will be putting my name forward for the election ballot on Monday," she said.
She won't know until Monday if she has the numbers, but said she wouldn't put her name forward if she didn't think she had "a very good chance" of leading National to victory at next year's election.
While Mr English initially emerged as a favourite having received Mr Key's endorsement, he doesn't believe that or the fact he is the current deputy will give him any advantage.
He's also not too concerned about his history as the party's leader. In 2002 he led National to its worst ever general election defeat with just 21 per cent of the vote.
"You learn as much from losing as you do from winning," he said.
"I've worked closely with the Prime Minister, learnt an awful lot in those 15 years and I think it's partly because of that experience I can see the opportunities ahead."
© Hagen Hopkins/Getty Images Bill English While Mr English wouldn't be drawn on who would be his deputy or any possible cabinet reshuffle decisions, Dr Coleman indicated he had already thought about what the party would look like under him.
"I feel it needs generational change, it's going to need new thinking in policy areas, it's going to need some new personnel," he said.
Ms Collins hasn't chosen a deputy, saying she respected the caucus process of choosing a leader and then a deputy.
She too addressed her own controversial history, including allegations she helped a company, Oravida, in which her husband was involved as well as allegations she helped undermine former Serious Fraud Office boss Adam Feeley.
"I think I've been completely exonerated over these matters and I am happy to move on from it," she said.
Tuesday's meeting also saw the return of Nikki Kaye.
She is still receiving treatment for breast cancer but revealed she would stand for re-election in Auckland Central next year and therefore wanted to be part of the leadership discussions.
Ms Kaye will back Mr English as leader while Anne Tolley and Maggie Barry, who left the meeting alongside her, did not comment.
Other ministerial colleagues, including Hekia Parata, Nathan Guy and Michael Woodhouse, have offered their support for Mr English while former party leader Don Brash said he thought Ms Collins has what it takes to lead the party to victory.