Committee hands in TPP report

NZ Newswire
4/05/2016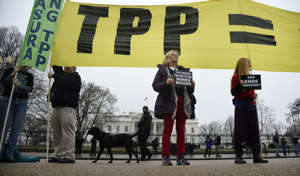 © Olivier Douliery/Getty Images Committee hands in TPP report The committee of MPs that studied the Trans-Pacific Partnership and heard public submissions on it has presented its report to parliament.
The cross-party foreign affairs, defence and trade committee held public meetings around the country to explain the TPP and hear opinions on it, although it didn't have the power to change anything in the 12-nation free trade agreement.
The committee received 6351 written submissions and heard oral submissions on 255 of them.
In the report, government MPs referred to the benefits the TPP would bring to New Zealand through tariff eliminations.
Labour and Green Party MPs put in minority reports explaining why they opposed the TPP.
Now the report is in, the government can start drafting legislation that has to be passed before the TPP can be ratified.
It wants the legislation passed by the end of the year.