Community work behind honours headlines

NZ Newswire
30/12/2016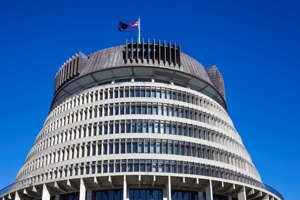 © Walter Bibikow/Getty Images Shot putting high-flyer Valerie Adams, now a dame, sits atop the New Year's Honours list but below her star power is recognition of grassroots work in the community.
There are 194 honours in the 2017 list, 113 for the men and 81 for the women.
Dame Valerie, the double Olympic gold medallist and IAAF world female athlete of the year in 2014, tops the podium, for her services to athletics.
"To be honest, I'm actually speechless, and I'm not normally very speechless," she told New Zealand Newswire.
"I'm really overwhelmed."
The biggest contributing sector is community, voluntary and local services, where 72 are rewarded, following by sport and recreation, where 28 people are acknowledged.
Professor Sir Richard Faull, credits the community for his knighthood.
The Auckland University brain researcher says the Centre for Brain Research and Neurological Foundation Douglas Human Brain Bank he founded couldn't do their work without the country's size and strong sense of community.
"This is what I call doing research the Kiwi way."
The list includes 13 former mayors, some of who served just two terms.
Former parliamentarian and Wellington mayor Dame Fran Wilde also says it isn't just one person who "makes it happen".
"It requires many, many people so it's (the honour) really a vindication for all of those people who have worked on shall we say some of the less popular issues of the day."
Christchurch's Mary Kamo, named a companion of the order of merit, also paid tribute to a part of society generally seen in a less positive light - prisoners.
"I have been able to see the people on both sides of the bars and admire so much about them," she said.
New Zealanders are also acknowledged for making a mark on the world stage.
David Howman, made a companion of the order of merit, after 13 years as director-general of the World Anti Doping Agency, says being a New Zealander was crucial in getting things done.
"We don't carry agendas and that held me well because of the way I was able to run things."
Meanwhile, in light of ongoing testy relations between New Zealand and Israel over our role in the UN declaration on settlements in Palestine, one award will raise wry smiles.
Tel Aviv's Gad Propper has been New Zealand's honorary consul there since 1998.
Mr Propper has been made an honorary officer of the order of merit for services to New Zealand-Israel relations.
The full list of recipients is available at http://www.dpmc.govt.nz/honours/lists