Compensation guidelines could be reviewed

NZ Newswire
15/06/2016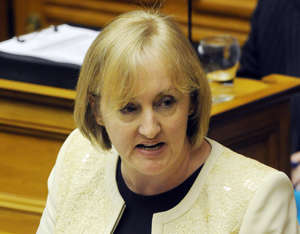 © SNPA / Ross Setford Amy Adams The cabinet guidelines for considering compensation claims for wrongful conviction and imprisonment, like Teina Pora's, could be reviewed in future, Justice Minister Amy Adams says.
But she's standing by cabinet's decision not to offer Mr Pora more money, despite the fact retired High Court judge Rodney Hansen had recommended the amount be adjusted for inflation.
Ms Adams on Wednesday apologised unreservedly to Mr Pora for the two decades he wrongfully spent behind bars for the 1992 rape and murder of Auckland woman Susan Burdett.
She also announced Mr Pora will be offered $2.5 million in compensation for wrongful conviction and imprisonment - the biggest amount ever offered in a case like this.
But Mr Pora's lawyer Jonathan Krebs is disappointed cabinet didn't take on board Mr Hansen's recommendation and he feels his client should have been offered more.
"One can't be ungracious about the award and about the offer of compensation, but at the same time one can't loose sight of the fact this man suffered 22 years' incarceration in one form or another for crimes he did not commit," he told reporters.
Ms Adams said cabinet did look at whether one specific component of the compensation - which provides $100,000 for each year wrongfully spent in prison - should be adjusted for inflation.
But cabinet ultimately decided that wasn't appropriate.
"The guidelines don't provide for inflation adjusting," she said.
"Every other applicant who has been compensated under the guidelines has not been inflation adjusted. We have to ensure some sort of equity."
Ms Adams added that the $100,000 per year figure still sits "very well" when compared with a range of other international jurisdictions.
The guidelines were set in 2001.
Ms Adams said they could be reviewed in future, but any new guidelines would only apply to cases lodged after any such review - meaning Mr Pora couldn't be awarded more money in future.
But she warned against making ad hoc changes on a case-by-case basis.
"That would defeat the entire purpose of having a clear and understandable system," she said.
Mr Pora's lawyers said they will be taking a couple of days to consider the compensation offer.