Conservative Party disowns Colin Craig

NZ Newswire
3/10/2016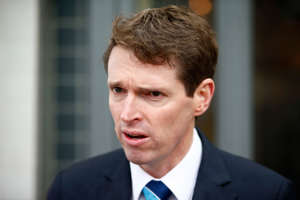 © Phil Walter/Getty Images The party Colin Craig founded says he's no longer a member and it doesn't want him back. The Conservative Party has turned its back on Colin Craig.
Mr Craig founded, led and financed the party, which came close to winning seats in parliament in 2014.
Now he's lost a $1.27 million defamation case and the Human Rights Review Tribunal has ordered him to pay his former press secretary Rachel MacGregor nearly $129,000 compensation.
Mr Craig hasn't ruled out a comeback but that's now how the party sees it.
"Colin Craig is not a member of the party, he has no position in it, he hasn't been offered a position and he hasn't asked for one - it isn't happening," board member and spokesman Leighton Baker said on Newshub's Paul Henry show on Tuesday.
Asked whether the party would have him back, Mr Baker replied: "No".
He said the party, which is still to choose a new leader, hadn't yet decided whether it would contest next year's election.
He had "no idea" how many members it had, but said there were more than the 500 required for it to be a registered party.