Conspiracy theorist Max Spiers 'about to reveal details of black magic ring' before death in Poland

Evening Standard
18/10/2016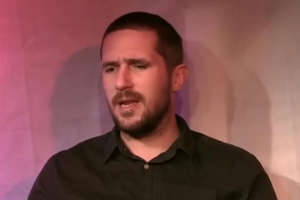 © Independent Print Limited UFO expert Max Spiers A British conspiracy theorist found dead in Poland had been about to publish claims of a global black magic ring involving politicians and celebrities, his distraught girlfriend claims.
UFO expert Max Spiers was found dead on a sofa of the Warsaw flat he was staying, with claims from friends he "vomited a black liquid" and may have been poisoned.
The 39-year-old, who had two children, was ruled to have died from natural causes though his mother claims no post-mortem examination has been carried out on his body.
Mother Vanessa Bates also said she received a chilling message just before his death saying: "Your boy's in trouble. If anything happens to me, investigate."
Today, Mr Spiers' girlfriend Sarah Adams told the Standard the couple had both received death threats in the weeks before the tragedy.
Miss Adams, 31, said: "We were used to getting death threats or stuff like that from people but I think this time it seemed rather real.
© Provided by Independent Print Limited maxspiersb.jpg "He'd been sent threats saying that him and me were going to die."

"He was going to expose black magic," she said. "He was going to expose some of the stuff that he was working on involving political leaders and celebrities.
"We had both been due to go to a conference to speak about it."
She said: "He planned on coming back here seeing his family and I was going to have his child. He had messaged me hours before.
"He sounded fine and he wanted to see me and come back here to England.
"His message to me said 'I'm going to see you in a bit and I love you.'
"It definitely couldn't have been anything like suicide or something like that."

She added: "It's affected me quite badly. I've lost the love of my life."
Mrs Bates told the Mail today she had overheard "satanic rituals" over her deceased son's body as she spoke to his flatmate on the phone.
She said: "I could hear all this kerfuffle in the background - ritualistic stuff.
"There were strange suggestions of things that should be done like put milk by this side and get garlic and put flowers and put vinegar and very weird goings on.
"I could hear it being said. It sounded like rituals going on. Some sort of satanic rituals."
A fund has been set up for a memorial service to Mr Spiers at his hometown of Canterbury, aiming to raise £3,000.
A statement on the fundraising page read: "Max was loved and will be missed by many.
"Although Max has already been buried they are still in mourning and have no closure at this time as the circumstances of Max's passing is still not clear."