Cooper powers to road cycling win

NZ Newswire
8/01/2017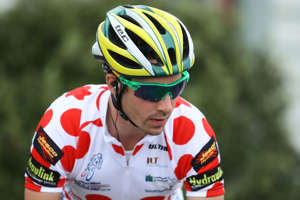 © Teaukura Moetaua/Getty Images Joe Cooper of Wellington Wellington rider Joe Cooper timed his attack perfectly to win the New Zealand men's road cycling championships in Napier on Sunday.
The 31-year-old, super-strong up the demanding Napier Hill, made his move on the final of eight ascents and held on over the 9km flat lap to claim his second national road race title.
A group of five riders had pushed clear on the initial 81km circuit into the Hawke's Bay hinterland, leading at one stage by more than three minutes.
They returned for eight laps of an inner city circuit which included the arduous ascent of Napier Hill, with the big players catching the breakaway on the third lap.
Attacks from Cooper, Dion Smith and defending champion Jason Christie up the climb were neutralised by the lead group on the flat, leaving Cooper to make the decisive move on the last climb of the 169km race.
He took a 17 second advantage into the final 9.5km flat lap, held off the powerful chasers into the head wind over the first 5km and from there enjoyed the run home to victory.
Cooper finished 14 seconds clear of Christie, with third place going to Smith.
"Today was about keeping calm and waiting for the right move. I didn't have any teammates so I was forced to save energy and then unload at a certain point and hope that it stuck," Cooper said.
"You had to give respect for the World Tour and Pro Continental guys ... I knew they were riding for a bunch kick and I can't sprint my way out of a wet paper bag so I needed to be solo.
"I had to roll the dice. There's no way I wanted to wait for the bunch kick and come 10th."