Cooper stays on as Maori All Blacks coach

NZ Newswire
6/07/2016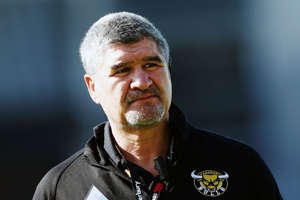 Colin Cooper will extend his tenure in charge of the Maori All Blacks for two more years.
Taranaki's Cooper, who was first appointed in 2013, has been reappointed to oversee the team's northern tour to Chicago, Ireland and England in November. He will also be in charge when they host the British and Irish Lions in Rotorua next year.
New Zealand Rugby Maori board chairman Wayne Peters says Cooper's contract extension is a strong endorsement of his excellent record and performance.
The Maori All Blacks have won all five games under Cooper, including last year's sole fixture, a 27-26 defeat of Fiji in Suva.
"This is an incredibly special team, and we are proud of what they represent," Peters said.
"Colin has been a key part of the team's success on and off the field."
Cooper says this year's tour, which features games against the United States, Munster and Harlequins, was an enticing carrot to stay on. He said facing the Lions was also a major driver to stay on.
He has derived enormous satisfaction from the progress to Test ranks of recent Maori All Blacks players such as Elliot Dixon, Liam Squire, Charlie Ngatai, Brad Weber and Joe Moody.
"I think the Maori All Blacks team is really finding its place in the high performance arena," he said.
"There are some great young players out there and a number of Super Rugby players have already put their hand up for selection, so I'm looking forward to seeing that group come together."
The Maori All Blacks squad will be announced after the All Blacks have named their squad for the Rugby Championship.