Council Unitary Plan debate kicks off

NZ Newswire
9/08/2016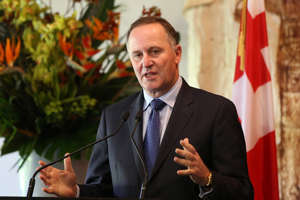 © Fiona Goodall/ Getty Images Crunch time is approaching for Auckland councillors to make a decision on the city's planning rulebook.
The council's Development Committee will on Wednesday morning sit down for the first of what may be a week or more of meetings to hammer out the Unitary Plan - which will dictate what can be built in Auckland for at least a decade and could dramatically change the city's density and shape.
The city's planners this week released their report on the specialist Independent Hearings Panel's recommendations to significantly increase the city's density while also stretching the urban limits outwards.
While council staff have advised councillors to accept most of the recommendations from the panel - which will see areas rezoned to fit more than 400,000 new homes in the city - they've also called for more than a dozen changes to be made.
They include a rejection of a proposal to scrap minimum apartment sizes, a call to drop proposed development of the volcanic Crater Hill area in South Auckland, and a request to put better transport planning in place for some newly proposed outer suburbs.
Councillors now only have until August 19 to make their final decision, but some points may make that difficult.
Intensification has been fiercely opposed by some residents in inner suburbs - although supported by many others and experts - and the council earlier this year backed down over its own proposal for higher density homes.
A recommended removal of blanket protection for pre-1944 buildings may also cause backlash.
Council staff have also asked for protections to be kept on 2000 sites of value to Mana whenua - a position groups such as the Democracy Action and the independent panel say hasn't been justified with evidence.
Each recommendation has to be approved by the Development Committee before being passed onto the governing body for a final debate.
Auckland Council regional planning manager Penny Pirrit this week told reporters the timeline for the upcoming meetings would be "fluid" depending on which topics prove difficult.
The council also has an option to ask the Environment Minister for a 20-day extension to the August 19 deadline, although Ms Pirrit said councillors would likely have to give the process a genuine go before turning to that.
Any major rejections would require an alternative plan and another report to pass.
Although the government has previously said it would lean on the council to get the Unitary Plan in place, it has been tight-lipped since the panel released its recommendations.
Prime Minister John Key on Tuesday said it was important to give councillors room to consider the decisions without government interference.