Coupe may quit over Pike River re-entry

NZ Newswire
16/02/2017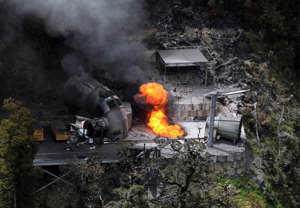 Andy Coupe, chair of failed state-owned coal miner Solid Energy, said at a fiery select committee on Thursday morning that he would consider resigning if the government orders the company to re-enter the Pike River coal mine.
Solid Energy's annual financial review at Parliament's commerce select committee was dominated by questions about its decision to seal the mine, which has been closed since a gas explosion in 2010 killed 29 workers. The company's chair appeared immediately after Fiona Kidman, who presented a petition asking the mine not be sealed.
Family members and supporters packed the public gallery for both hearings. Prime Minister Bill English said on Wednesday sealing of the mine would be halted after he met with the families.
NZ First leader Winston Peters repeatedly criticised the committee's chair Melissa Lee for her allocation of questions and clashed with Mr Coupe, interjecting during his initial presentation and when the chair was answering questions.
Mr Peters, who in December pledged to be first to re-enter the mine, quizzed Mr Coupe over the possibility of unmanned entry to the drift, and criticised Mr Coupe for not knowing the details of his coverage and premiums for his director's insurance.
Mr Coupe said it would be a "perverse response" if Parliament changed the law to remove Solid Energy's responsibility for the safety of a re-entry crew, as Mr Peters suggested, and he would resign if that happened as he "would not want to be director of a company that put people at risk". If the government instructed the re-entry of the mine, Coupe said he would have to consider resigning.
Labour leader Andrew Little asked Mr Coupe whether the decision to seal the mine was driven by financial considerations, referencing a report from November 2014 which said the cost of recovery would exceed the budget.
"Safety is the reason we stopped. Notwithstanding that it was failed on safety, there was also reference to technical feasibility and financial credibility because the budget exceeds the amount agreed with the Crown in 2013," Mr Coupe said.
The company was placed into voluntary administration in 2015 after concluding it had no realistic prospect of refinancing $239 million of debt facilities due to mature in September 2016.