Courier to deliver missing Wellington post

NZ Newswire
29/09/2016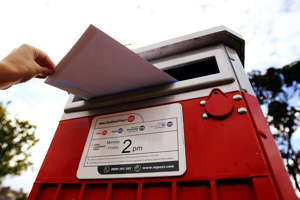 © Hannah Peters/Getty Images A postie has been stood down after 3000 mail items, including voting papers, were not delivered in a Wellington suburb. Around 3000 mail items, including local election voting papers, will be delivered to residents in the Wellington suburb of Maupuia on Friday after a postie was stood down when the non-delivered mail was uncovered.
A courier will deliver the mail, including 667 voting documents, to 13 affected streets in the hilltop suburb but Wellington city council electoral officer Warwick Lampp was unhappy at the delay at him being informed of the incident.
"I am most disappointed that it has taken NZ Post so long to advise me. Having said that, NZ Post has taken appropriate steps to remedy this issue immediately, all voting documents will be delivered," he said.
An apology letter from NZ Post will be included with the couriered mail.
Voting in the local body elections closes on October 8.