Court runner may be in Hawke's Bay

NZ Newswire
6/09/2016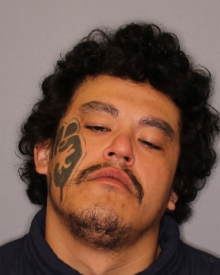 © NZ Police Sabbath Tane Hendrix Mohi A Black Power gang member who allegedly knocked out a police prosecutor as he ran from the dock at Hutt Valley District Court may have made it to the Hawke's Bay, police say.
Sabbath Tane Hendrix Mohi, 23, was still on the run on Wednesday, two days after his escape during an appearance in Hutt Valley District Court.
"Police believe Mohi is being assisted by associates in the Hutt Valley, and possibly in the Hawke's Bay," they said in a statement.
They also said helping someone to evade police was a crime in itself.
Mohi is considered dangerous and should not be approached.
Mohi had been facing charges of possession of an offensive weapon, unlawful possession of a firearm and assault when he appeared in the Lower Hutt courthouse on Monday afternoon.
Police say he jumped the dock and ran out of the court. A prosecutor chased him but was knocked unconscious before Mohi made off. The prosecutor suffered moderate injuries.
Mohi was described as 176cm tall, of medium build and with a tattoo of a clenched fist on his right cheek.