Craig defamation case set to continue

NZ Newswire
26/04/2017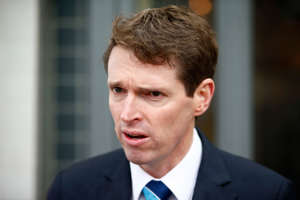 Conservative Party leader Colin Craig says Taxpayers Union founder Jordan Williams' defamation case against him is headed for a retrial or an appeal.
He says the next step will depend on Mr Williams.
The parties had until Wednesday afternoon to advise if they agreed to a High Court judge determining the amount of damages in the case, instead of the record $1.27 million a jury awarded against Mr Craig.
Mr Craig said after the deadline expired that he hadn't filed a memorandum with the court.
"There's not going to be a consented judgment," he said.
"It's up to Mr Williams to decide what he'll do. That's where it's sitting at the moment."
Asked if he would have consented to the court substituting its own award of damages for the jury's, Mr Craig said: "That's not going to happen.
"It's just going to go back to either a retrial or appeal - they are the two options - and what happens is really just down to Mr Williams to decide."
Comment is being sought from Mr Williams.
In September, a High Court jury ordered Mr Craig to pay Mr Williams what is the highest amount of damages in a defamation action in New Zealand for comments in a press conference and a leaflet.
A fortnight ago, Justice Sarah Katz ruled that the sum was outside the range that could reasonably have been justified in the circumstances and said a miscarriage of justice had occurred.
She ordered both parties to file memoranda advising whether they consented to the court substituting its own award of damages for the jury's.
If confirmation that both parties consented was not received, then the jury's verdicts would be set aside and proceedings set down for a retrial.