Craig, Slater clash in courtroom

NZ Newswire
17/05/2017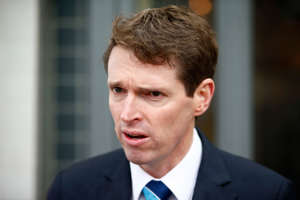 © Phil Walter/Getty Images Mr Craig is suing Slater for defamation over his blog posts, while Slater is counter-suing Mr Craig Blogger Cameron Slater has told a court his posts are so popular it makes him a target for attack from people, such as former Conservative Party leader Colin Craig.
Whaleoil founder Slater, in a series of posts in 2015, alleged former Conservative Party leader Mr Craig sexually harassed his former press secretary Rachel MacGregor.
Ms MacGregor resigned suddenly two days before the 2014 election, having worked closely with Mr Craig from about the time he founded the Conservative Party three years earlier.
Mr Craig is suing Slater for defamation over his blog posts, while Slater is counter-suing Mr Craig over allegations the former politician made in a 12-page pamphlet he sent to 1.6 million homes trying to defend himself.
Slater says he was just doing his job as a journalist when he posted the allegations.
Under cross-examination by Mr Craig - who is representing himself - at the High Court at Auckland on Wednesday, Slater said people such as Nicky Hager in his book Dirty Politics had regularly attacked him because he was influential.
"That is why I'm targeted and continue to be targeted by people such as yourself," he told Mr Craig.
However, Mr Craig, in a series of questions, quizzed whether Mr Slater should be bound by the same code of ethics and standards other media organisations subscribe to, such as those set down by the Press Council.
But Slater said he chose not to be bound by a set of published standards because it could then be held up by political opponents as a way to try silence him when they do not like an article.
He instead ensured his stories were factual and that he included a transparent process for readers to complain on his blogsite, Whaleoil.
Pressing Slater on individual points within the Press Council code, Mr Craig asked him if he should contact a person for comment when they are the subject of a blog post.
He said it depended, but he had no obligation to contact them if they were a known liar and will likely lie in his story or if they are likely to sue him, as he said Mr Craig would.
The judge alone trial continues.