Craig's ex-press sec hopes chapter closed

NZ Newswire
3/10/2016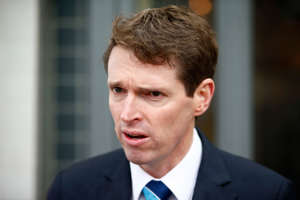 Rachel MacGregor wants to close the book on her sexual harassment claim against former Conservative Party leader Colin Craig and move on, her lawyer says.
The Human Rights Review Tribunal has ordered Mr Craig to pay his former press secretary $128,780 in damages and costs for breach of confidentiality relating to settlement of a pay dispute and her claim for sexual harassment.
The figure, made public on Monday, included $120,000 in damages for humiliation, loss of dignity and injury to feelings, the highest sum the tribunal has awarded for emotional harm.
Lawyer Linda Clark says Ms MacGregor had never wanted the matter to become the subject of public debate.
"All of the publicity about this has been very distressing to our client, very upsetting, and she is pleased that this decision can be published," she said.
"She hopes that is the final chapter and that she can get on with the rest of her life."
The settlement was reached via Human Rights Commission mediation in May 2015, with both parties agreeing to confidentiality.
After stepping down as leader a month later, Mr Craig talked to the media about the case, including in his infamous televised sauna interview.
The tribunal found that Mr Craig breached confidentiality in a comprehensive, deliberate and systematic way with the sole aim of bolstering his reputation.
It said the breaches left Ms MacGregor with feelings of anxiety, anger, despair and alarm.
The tribunal's decision, delivered in March, was suppressed until after the High Court hearing into Taxpayers Union executive director Jordan Williams' defamation action against Mr Craig.
Last Friday, a jury found that Mr Craig had defamed Mr Williams and ordered him to pay a record $1.27 million in damages.