Crown: Accused wanted victim dead

NZ Newswire
15/03/2017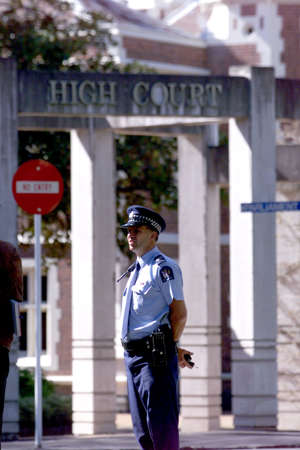 As Wayne Blackett attempted to break a young woman's neck and then to strangle her, his two female accomplices were just as guilty for chortling with laughter and egging him on, the Crown says.
The trio are accused of then dumping the woman by a road in Dome Valley in May 2016 and leaving her for dead.
The two women, Nicola Jones and Julie-Ann Torrance, are on trial accused of attempted murder with the Crown closing its case against them on Wednesday in the High Court at Auckland.
Blackett has pleaded guilty to attempted murder.
Prosecutor Brian Dickey told the jury the charge against the two women was a "very plain case of attempted murder".
He said Jones, Torrance and Blackett all knew what was going to happen when they drove to Conical Peak Road with the young woman tied, wrapped in a tarp and thrown into the boot of their car.
After trying to strangle the woman, Blackett took a hammer and delivered at least 10 blows to the woman's head, causing multiple fractures and depressing her brain by 2cm.
Mr Dickey said if the women were to be found guilty of attempted murder, they had to intentionally know or encourage the murder of the victim.
Had they not agreed with Blackett's actions, they could have used their phones to call the victim's family or the ambulance or even have left the car used to drive the woman to Conical Peak Road when Blackett stopped at a petrol station on the way, Mr Dickey said.
Instead the women watched and even participated in the attack, he said.
Earlier, Jones and Torrance - along with Jaclyn Keates and Michelle Blom - kidnapped the young woman from central Auckland and took her to Blom's house, Mr Dickey said.
There they sexually assaulted and hit her with a cricket bat and wicket, hurting her in terrible ways and degrading her at will, he said.
They had also been fuelled by malice and hatred for the victim and were high on methamphetamine.
The defence for all defendants opted not to call evidence earlier on Wednesday.
The trial continues.