Crusaders ready to front in Fiji

NZ Newswire
27/06/2016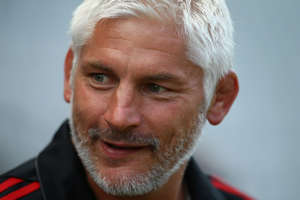 © Steve Haag/Gallo Images/Getty Images Todd Blackadder Coach Todd Blackadder has few worries about reintegrating his All Blacks back into Super Rugby as the Crusaders prepare to do battle with the Chiefs in Fiji on Friday.
Blackadder says his nine All Blacks have recovered well from three Tests in four weeks against Wales, with midfielder Ryan Crotty the only casualty after injuring his calf in the third Test.
He's unlikely to travel in Blackadder's squad of 26, although a final decision won't be made until Tuesday.
"They've come back really energised today, focused and raring to go," Blackadder said.
"It's not even at the back of my mind, I'm not even concerned about the state they're going to come back in.
"We know they've fronted all year for us, and I don't believe anything will change."
Blackadder is confident his side will be quick to rediscover the sort of form that has seen them lose only twice this season.
With only three matches remaining, he says the Super Rugby leaders don't really have a choice.
"There actually isn't a lot of time. This is going to feel like a short week, then there's two more round robin games.
"What happens in the next three weeks will be season-defining for everyone in this competition, so we'll just take it one step at a time knowing the end isn't that far away."
The return of Kieran Read for Friday's game is a huge boost for the Crusaders, with the All Blacks skipper keen to step up despite the quick turnaround from Saturday's 46-6 win over Wales.
He says there's no lack of motivation in making the adjustment from international rugby.
"It is a tough thing to do, but it won't take too long," he said.
"When you think of the rivalry we've got with the Chiefs, and the way the season's panned out, this is a big game for us."