Crusaders wary of Stormers challenge

NZ Newswire
20/04/2017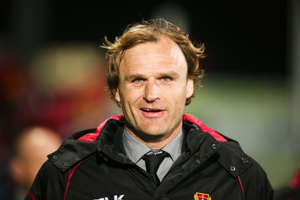 Crusaders coach Scott Robertson says his side are prepared for a physical contest when they clash with the Stormers in Christchurch on Saturday night.
Watching the Stormers impressive and physical win over the Chiefs a fortnight ago gave his side a good idea of the challenge that awaits them this weekend, Robertson said.
"They know they're going to have to play like that if they are going to come here and beat Kiwi teams so it was a good viewing for us as it has got us prepared in that we need to have our mindset bang on.
"They've got a lot of international players and some form players who have scored lots of tries so it will be a good contest."
Super Rugby's convoluted nature has meant the Crusaders haven't played the men from Cape Town since early 2014, where they came away with a 14-13 win at home.
Second-five eigth Ryan Crotty returns from injury for the match and will partner Jack Goodhue in the midfield as they lock horns with the inexperienced Stormers pairing of EW Viljoen and Daniel du Plessis, who have had a strong start to the season in place of established pair Damian de Allende and Juan de Jongh.
Crotty is looking forward to the midfield battle and playing inside his younger teammate Goodhue.
"He's a good kid and nothing really seems to faze him. He's got a pretty calm temperament out on the field and he brings real physicality to our midfield and our backline so it's awesome to have him out there.
The Lions inflicted the Stormers their first defeat last week as they dominated up front and Crotty said that is a key area again this week.
"They (Lions) were physical and their line speed was good. Defensively they were sharp and they won the break down.
"It's a key area. You can't play fancy rugby if you don't win the contacts. Our forwards will look after that."