CTV collapse investigation continues

NZ Newswire
31/07/2016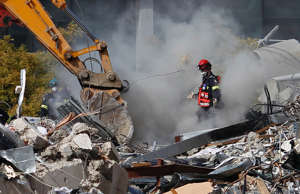 An investigation of the foundations of the CTV building which collapsed in the 2011 earthquake in Christchurch is about to start.
The six-storey building collapsed and caught fire after the magnitude 6.3 quake struck on February 22, claiming the lives of 115 people including 65 foreign students inside.
Contractors will start work on eight trenches on Monday to allow soil specialists and engineers to examine the foundations, Detective Superintendent Peter Read announced on Friday.
Work is expected to take a week.
Investigators have already rebuilt and tested the building structure in a review announced by police in September.
"The investigation is now nearing its closing stages," Det Supt Read said, adding the outcome and any decision on criminal culpability would be communicated to the families of victims first, then publicly.