Cut govt jobs to fund tax cuts: ACT

NZ Newswire
21/11/2016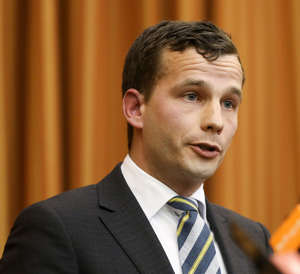 © Hagen Hopkins/Getty Images David Seymour Scapping government jobs could help fund tax cuts for New Zealand, ACT leader David Seymour has suggested.
He says it would be wrong of the government to rule out tax cuts because of the cost of rebuilding after the Kaikoura earthquake, and wants to see money saved in other ways.
Opposition parties have been critical of the government's continued talks of tax cuts, describing the idea as "crazy" and "financially irresponsible".
But the government has neither announced tax cuts nor ruled them out.
Instead, Prime Minister John Key says cuts or a "family package" remain a possibility that will be decided by "a number of moving parts" including the cost of the rebuild.
Mr Seymour says it's possible to do both.
"The government just has to finally get tough on the enormous waste that occurs in existing spending," he said.
He's called for the sale of public assets including KiwiRail and cutting jobs to do so.
"We could surely scrap a few of the government's 2500 policy analysts and over 5000 managers," he said.
Some economists have cast doubt on whether the government could afford tax cuts, but while attending the APEC summit in Peru this week Mr Key said the government was mulling a "tax or family package" next year.
"When we get a better assessment of how much it's (the earthquake) going to cost, it will be one factor that has some impact on our capacity to move in the short-term, but probably not in the medium term," he said.
Labour leader Andrew Little has labelled talk of tax cuts "crazy".
"Kaikoura's rebuild alone will cost billions and put pressure on the government's books so for Key to now say there's still room for tax cuts just shows just how out of touch he is," Mr Little said.
Green Party co-leader James Shaw said the government was still carrying debt from the Christchurch earthquake and the GFC.
"I don't think it's a question of 'is it feasible, but is it a good idea'," he said. "It seems to me financially irresponsible to talk about tax cuts."