Dagg with point to prove for Crusaders

NZ Newswire
25/05/2017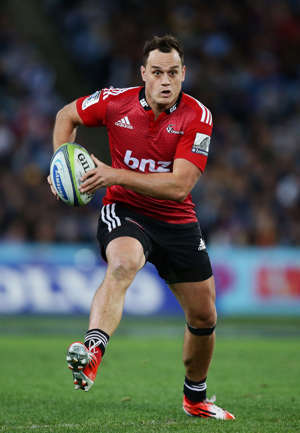 Just when it seemed nothing more could go right for the unbeaten Crusaders, a fizzing Israel Dagg has been restored to their playing ranks.
Classy All Black outside back Dagg returns on the right wing for Saturday's match against the struggling Rebels in Melbourne, giving him a chance to prove his readiness for Test duty next month.
Sidelined by a knee injury suffered in round three against the Reds, the 28-year-old wants to add another element to what has been a potent Crusaders attack in his absence.
"I've been a stay-at-home dad for the last 10 weeks," said Dagg.
"I just want to get out there and get my hands on the ball, get some contact and play some footy."
Dagg insists Test selection isn't on his mind.
Playing freely and without any further injury issues is more important at this stage for the 61-Test veteran.
Dagg's return offsets coach Scott Robertson's decision to rest a host of his in-form players who have lifted the Crusaders to a 12-from-12 record.
The Rebels, with just one win to their name, have conceded nearly six tries per game.
The Crusaders ran riot 85-26 in last year's equivalent clash in Christchurch but their four previous matches with the Victorians were split 2-2, with all decided by less than 10 points.
Dagg said it was important they didn't let their standards slip in what he described as a banana skin fixture for the Crusaders.
"We are approaching it like we are playing the Chiefs or Hurricanes," he said.
"They are a quality side that if we don't get our mindset right and our attitude right we will get pipped so we have got to go over there and play our game."
Wallabies back Reece Hodge has been named to start at second five-eighth for the Rebels after he suffered a heavy head knock in the opening minutes of last week's loss to the Waratahs.
Dagg said the Crusaders were planning for all scenarios, including the uncertainty surrounding Hodge.
"You just never know until game day. He might be right so we are just preparing for everything," he said.
"They have had a lot of changes this year so it is quite hard to preview a team like that but, for us, we have just got to react and adapt on the day."