Dairy prices surge at latest auction

NZ Newswire
1/11/2016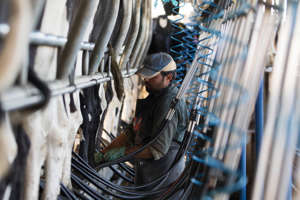 Diary prices have surged at Fonterra's latest GlobalDairyTrade auction, with the key whole milk powder price up nearly 20 per cent.
The GDT price index was up 11.4 per cent, taking the average price to $US3327 ($NZ4644) per metric tonne, on Wednesday morning.
The index is now at its highest level since July 2014.
Whole milk powder, the company's biggest product, was up 19.8 per cent to $US3317 per tonne.
Auction prices rose for the sixth time in seven auctions.
Last week Fonterra said it reduced its forecast milk volume for the 2016-17 season in New Zealand to 1,460 million kilograms of milk solids, 6.8 per cent below the volume collected last season, AgriHQ dairy analyst Susan Kilsby said in a note.
"Dairy markets reacted sharply to tightening milk supply in New Zealand," Ms Kilsby said.
"This positive GDT result will put upward pressure on milk price forecasts." Skim milk powder was up 6.5 per cent while butter, anhydrous milk fat and cheddar also gained while lactose, rennet casein and butter milk powder all declined.
The New Zealand dollar last traded at 71.69 US cents at about 12.27pm in New York, compared with 71.51 US cents at 5pm in Wellington on Tuesday.