Dakota Johnson Is Unrecognisable In Call Me By Your Name Director's Suspiria Nightmare

Refinery29
16/05/2018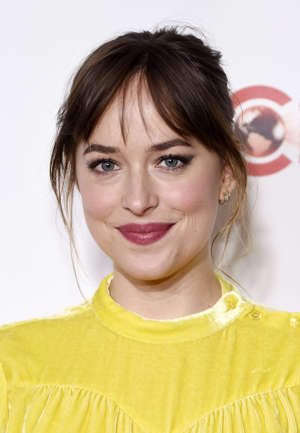 © AP Dakota Johnson, recipient of the Female Star of the Year award, poses at the 2018 Big Screen Achievement Awards at Caesars Palace on Thursday, April 26, 2018, in Las Vegas. (Photo by Chris Pizzello/Invision/AP) If she is trying to make us forget she was in the Fifty Shades trilogy, Dakota Johnson did a pretty good job transforming herself for her next role. Without the prior knowledge that she was starring in the remake of the 1977 horror classic Suspiria, we would not be able to identify demure ballerina Susie in the first images released from the movie.
© Photo: Courtesy of Amazon. Refinery29 Maybe it's a trick of no-makeup makeup and lighting. Maybe it's the centre-parted, long '70s braid and drab dancer sweatpants. Maybe there's some prosthetic we can't quite put our finger on. Maybe Johnson's acting talent is so strong we can simply pick it up in a movie still that she is different for this role. The uncertain look on her face is certainly making us intrigued about this film, slated for a fall release.
Darkness is building at a world-renowned dance company. See it unfold when #Suspiria arrives in theaters November 2. pic.twitter.com/SnmcTzZ1an

— Suspiria (@suspiriamovie) May 14, 2018
Not that audiences weren't already hyped for the movie. For one, director Luca Guadignino, hot off the awards-show circuit of Call Me By Your Name, is behind this film. For another, Radiohead frontman Thom Yorke composed the score. Did we mention that Tilda Swinton and Chloë Grace Moretz also star in it? Then there are the stories from last month's CinemaCon, where Amazon Studios showed a mere scene from the movie that made the audience sick to their stomachs. Even the pros called it "f**ked up" and "gross."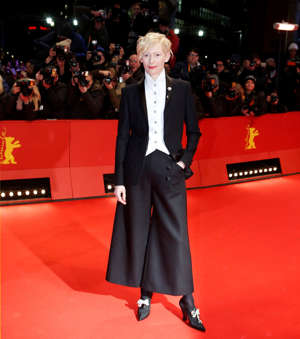 © Reuters Actress Tilda Swinton is also part of the movie There's also the fact that Dario Argento's original is huge with the horror crowd, and Guadignino has been careful to honour that.
"Every movie I make is a step inside my teenage dreams, and Suspiria is the most remarkably precise teenage megalomaniac dream I could have had," he told The Guardian. "I saw the poster when I was 11 and then I saw the film when I was 14, and it hit me hard. I immediately started to dream about making my own version of it. ... So that's how I am approaching it: a homage to the incredible, powerful emotion I felt when I saw it."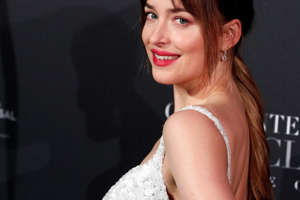 © AP Dakota Johnson poses during a photocall for the world premiere of 'Fifty Shades Freed - 50 Nuances Plus Claires' at Salle Pleyel in Paris, Tuesday, Feb. 6, 2018. (AP Photo/Francois Mori) That emotion must have been powerful indeed. Johnson told Elle that making the movie "no lie, f**ked me up so much that I had to go to therapy." We're already bracing ourselves.
Pictures: The most dramatic actor transformations for a movie role 
Slideshow provided by
StarsInsider